, from which Nicholas Worthey developed the graphical timeline above. Please enjoy the
The Illuminating Engineering Society of North America was founded on January 10, 1906. An early thought-provoking analytical idea appeared in 1912 in the
Transactions of the Illuminating Engineering Society
. [Herbert E. Ives, "The relation between the color of the illuminant and the color of the illuminated object,"
Transactions of the Illuminating Engineering Society
7
:62-72.(1912).] In a passing remark, Herbert Ives noted
"It is, for instance, easily possible to make a subjective white, as by a mixture of monochromatic yellow and blue light. A white surface under this would look as it does under 'daylight' but hardly a single other color would." -- H. E. Ives
An illustration from that article can be marked up to illustrate what he meant. From Isaac Newton's color article, we may take the idea that most white lights contain all colors of the spectrum. Ives applied a more detailed understanding, perhaps from Maxwell and from his father Frederic Ives, that a mixture of two narrow bands, yellow and blue, will be perceived as white. Below is Fig. 1a from that article.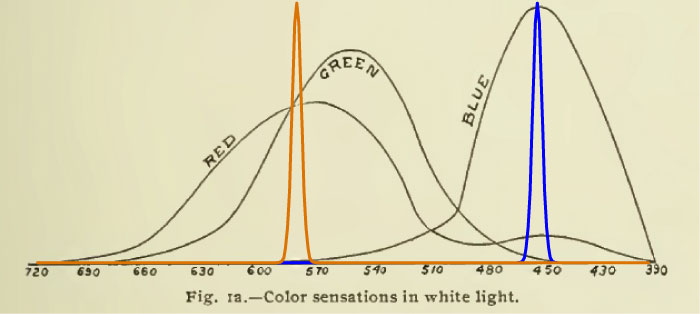 The black lines are Ives's original drawing, while the orange and blue are added to represent his "mixture of monochromatic yellow and blue light." Color vision is trichromatic, but monochromatic yellow stimulates two receptor systems because of the large overlap of the red and green sensitivities.
Ives Took a Scientific Approach.

Ives's scientific insight:
The simple example is based on the facts of color vision.

The two-bands light anticipates issues with commercial lights that came later.



William A. Thornton


1923-2006




A figure from Thornton, William A. and E. Chen, "What is visual clarity?" J. Illum. Eng. Soc. 7(2):85-94 (January 1978).




In the 1970s, Bill Thornton studied the idea of 3-band lamps. He re-discovered Herbert Ives's idea, figure at left.



In the 1980s and since, Worthey has expanded on the two-bands idea, noting that many commercial lights shrink red-green contrasts among objects. See figure above.

The 1965 "Color Rendering Index" ignored the overlap of receptor sensitivities and the issue of the two-bands light.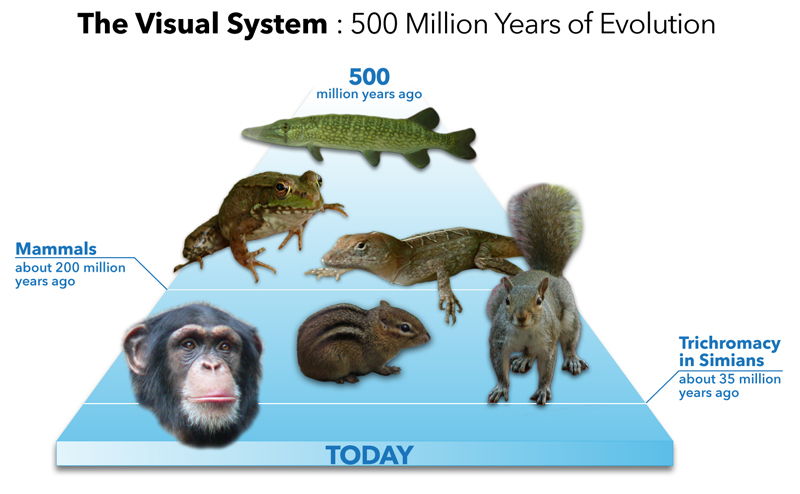 Illustration developed by
Nicholas Worthey
. Chimpanzee photo by
Thomas Lerch
.
The normal process of seeing is effortless. Talking about it is harder.


Vectorial Color Overview (part 1)
| | |
| --- | --- |
| | |
| Narrow-band lights of equal power map to vectors with different amplitudes and directions. | Colored lights add vectorially. In this figure, equal-power components add to make the so-called Equal Energy Light. |
Vectorial Color Overview (part 2)

| | |
| --- | --- |
| | |
| Starting with a light (an SPD), to find its 3-vector, we need these Orthonormal Opponent Color Matching Functions. | For convenience, the functions ω1, ω2, ω3 become the columns of matrix Ω . |